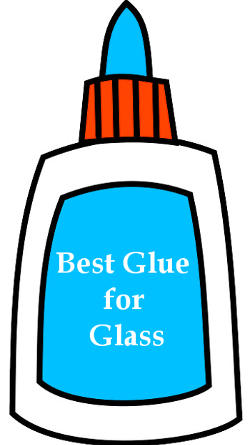 Broken glass commonly seems to be irreparable. If the shards are small, just sweep them up carefully and throw away. However, there are multiple occasions when the break is not catastrophic, and you can repair them easily if you have the best glue for glass on hand.
Additionally, multiple DIY tasks and projects are to be completed around the house, and modern craft enthusiasts are lucky nowadays. A lot of perfect glue products are available on the market. They enable fastening glassware and bonding glass to various materials like metal, plastic, wood or fabric, being non-toxic, perfectly clear and fast-to-dry.
However, what kind of glue to use on glass, metal, and wood? Which product is the most environment-friendly and safe? Which glass glue item suits DIY and commercial applications the best? I've selected and tested the 10 best products, so, I'll highlight their unique properties, benefits, and drawbacks, to make your choice as easy and informed, as possible.
Best Glue for Glass in 2023
Image
Product
#1. E6000 Adhesive 230010


Weight/Size - 4/3.7oz
Usage - versatile
Base - latex
Color - clear
Drying Time - 5-7 minutes

Editor's Choice


Check Price


Read Our Review
#2. Gorilla Adhesive


Weight/Size - 1.44/3oz
Usage - multipurpose
Base - polyurethane with
rubber particles
Color - clear
Drying Time - 10-30 seconds

Check Price


Read Our Review
#3. Loctite Glass Glue


Weight/Size - 0.32/2gr
Usage - glass and crystal to
metal and plastics
Base - butyl formula
Color - crystal clear
Drying Time - instantly (5-15 seconds)

Check Price


Read Our Review
#4. Permatex 80050


Weight/Size - 3/3.2oz
Usage - general purpose
Base - silicone
Color - clear
Drying Time - 10 minutes

Check Price


Read Our Review
#5. J-B Weld 50112


Weight/Size - 3.52/25 ml
Usage - versatile
Base - epoxy
Color - clear
Drying Time - 5 minutes

Check Price


Read Our Review
#6. Judikins GP005


Weight/Size - 2/ 2.4oz
Usage - glass, cabochons, jewelry
Base - water
Color - clear, glass-like
Drying Time - 10-15 minutes

Check Price


Read Our Review
#7. Weldbond 8-50420


Weight/Size - 14.2/1.1pounds
Usage - multi-purpose
Base - water (PVA)
Color - clear
Drying Time - 20 minutes

Check Price


Read Our Review
#8. TroySys IC80HV-50GR Nano470


Weight/Size - 50 g
Usage - glass to glass and
glass to metal
Base - high viscosity liquid
Color - clear
Drying Time - Several minutes

Check Price


Read Our Review
#9. Shoreline Marine GOOP


Weight/Size - 4.8/3.7oz
Usage - versatile
Base - single component,
perhaps, latex
Color - clear (a bit cloudy)
Drying Time - 72 hours

Check Price


Read Our Review
#10. Devcon 31345


Weight/Size - 0.84/1.6/25 ml
Usage - glass, wood, concrete,
metals
Base - epoxy
Color - clear
Drying Time - 30 minutes

Check Price


Read Our Review
1. 230010 Adhesive from E6000: Best Glue for Porcelain Figurines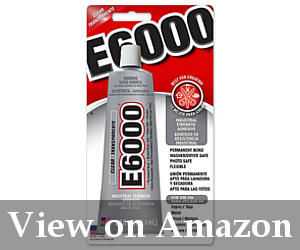 The adhesive commonly suits various craft application, such as artwork, jewelry making and repair, various tiny and delicate items. With this glass glue, you can make beautiful gifts to congratulate your close ones and fix glassware, porcelain and ceramics, plastic and acrylic items like coffee cups, plates, repair clothing, etc.
The adhesive stands out by industrial strength and versatility. It is great to bond glass to anything available at home or in the studio: metal, leather, wood, fabric, vinyl, photographs…The glass glue is perfectly clear and unnoticeable upon drying, waterproof and heat-resistant, non-flammable. It is paintable, so the artists can use it on any project, even the most sophisticated.
Therefore, you can apply it on the most delicate items, kitchenware that is to be washed and dried, hot drinks cups, plates that are put to the microwave oven, wash machine, dryer. Due to the perfect strength and high performance, it suits multifarious household renovation projects.
To fix or bond the tiny items, squeeze a drop into a small, polyethylene bag, clip the tip on the corner, and control the glue to make the tiniest lines or use larger quantities of the glass glue. Otherwise, use a pin or a toothpick to apply it. This way, you won't glue the fingers and avoid the smell.
The adhesive is fast to set; it takes only 5-7 minutes until it sticks, but the complete drying time can last up to 72 hours (for large projects and heavy applications). So, it's flexible, it doesn't expand and it never gets cloudy. However, seal the container tight, to avoid hardening when you don't use the glue for a long time. Additionally, it's a bit smelly, producing terrible fumes, so, proper ventilation is to be arranged. Nevertheless, I think, it's the best glue for glass to glass to be used on various household items.
Conclusion
The E6000 glass glue is versatile and flexible. It can be applied to multiple household, renovation and craft projects, being strong, clear, paintable, heat-resistant and waterproof. However, take care of the ventilation and use the handy accessories to apply the adhesive.
Pros
strong;
heat-resistant;
waterproof;
paintable;
suits delicate items fixing and bonding;
acid-free;
made in the USA;
flexible;
dishwasher safe;
non-flammable.
2. Gorilla Excellent Glue Gel: Better Super Glue for Metal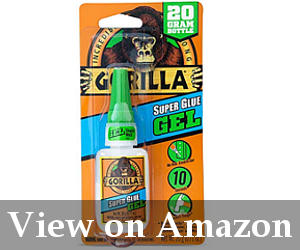 Having any DIY renovation or item repair tasks to be solved, select this multipurpose and easy-to-use adhesive. Being in handy gel condition, including no run control formula, it perfectly suits multiple projects.
Glass glue can be used on both horizontal and vertical surfaces. It is really thick and fast-drying. The adhesive sets in 10-30 seconds, requiring no clamping. It is versatile, bonding not only glass but various materials, including metal, stone, fabric, rubber, ceramic, leather, plastics, paper, etc. It is really efficient on bonding glass to glass.
Upon drying, the glue is really strong, reliable and long-lasting. It stands out from all available counterparts by the increased impact resistance that is achieved due to very small rubber particles the gel contains. Therefore, the specially formulated glue absorbs drops, shocks, and impacts better than the other, similar products.
The glass glue is suitable both for indoor and outdoor applications. It is cold and heat resistant, so it can be used on furniture repairing, blinds and curtain rods hanging, but only the small and lightweight ones. As to the glassware, I guess it's not the best choice. The glass glue is waterproof; it withstands rain, but not the continuous moisture exposure, and it's not dishwasher-safe. So, it's preferable for the other applications, for example, household or construction ones.
The container is equipped with a handy anti-clog cap and its applicator tip comes with a special, internal metal pin. Just shake it to turn the gel upside down. After the use, don't forget to close it properly, so, it won't clog the top or get dry.
Conclusion
The Gorilla super gel glue is versatile, suitable for both indoor and outdoor applications. It is cold and heat resistant, working efficiently on vertical surfaces. However, the glass glue is not the most waterproof. Therefore, it's preferable for repairing, household, construction, craft and DIY projects than broken glassware repairing.
Pros
thick;
easy-to-use;
handy applicator tip;
works on vertical surfaces;
versatile;
transparent;
strong and impact-resistant;
instant-drying, without clamping;
suits construction and household projects;
can be applied outdoors.
Cons
the glass glue doesn't work on polyethylene and polypropylene.
3. Loctite (233841) Glass Glue 2-Gram Tube: Best Glue for Glass Repair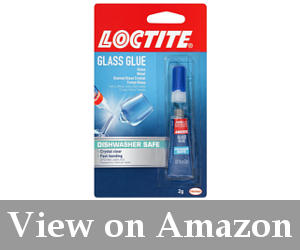 The small package means that the glass glue is extremely efficient and concentrated. It is specially designed and formulated to bond glass to glass and various non-porous materials like plastics and metal.
The glue stands out from similar items by its unbeatable water and heat resistance. The glass glue withstands high temperatures up to 175 °F, perfectly resists water, and, therefore, it is recommended as dishwasher-safe. However, it's better to wait for about a week after the bonding before putting the repaired glassware (bowls, flutes) in the dishwasher.
As to the bonding time, it can be described as instant. It takes about 5-15 seconds to settle down, but the manufacturer recommends to hold the pieces together for about a minute, and an hour, at least, is required to sit, but without clamping.
Another Loctite glass glue's benefit is that it really remains clear for a long time, avoiding yellowing. Therefore, it can be applied to Swarovski crystal ornaments and figurines and they remain clear, with no residue, for years. The other broken items such as watches, aquariums, glass shower doors, mirrors can be repaired with the glue, as well.
General Verdict
The Loctite glass glue is perfect, durable and high-performance, heat and water resistant, dishwasher safe, crystal clear and instant. It is specially designed for repairing broken glass items and bonding them to metal and plastic, so, I can recommend it as the best glue for bonding glass to glass. However, the glass glue may be not useful on the other materials, including some plastics.
Pros
heat resistant;
waterproof;
dishwasher safe;
long-lasting;
crystal clear;
fast-binding without clamping;
sealed cap;
efficient on all glass types and grades;
easy fix on earthquake broken items;
handy;
strong and durable.
Cons
it doesn't work on some plastics.
4. Permatex (80050) RTV Silicone Clear Sealant: Best Adhesive for Glass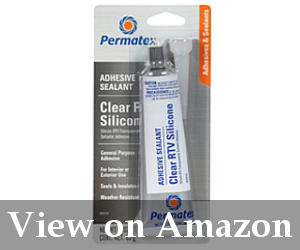 The glass glue is RTV (Room-Temperature Vulcanizing) Silicone-based. It was initially designed for motor vehicles repair. Due to its unique properties such as heat and cold resistance, waterproofness, durability, and flexibility, it can be used both indoors and outdoors.
Being able to withstand extremely high temperatures up to 400° F, due to extreme vibration and weather resistance, the glass glue is intended to survive a longtime ride in a desert. The sealant suits also multiple constructions, household, renovation and repair projects. However, its UV-resistance is not specified, and it's still doubtful.
Particular Qualities
The glass glue works on roofs and door frames, vinyl tops installations, bonding and sealing metal, plastic, vinyl, fabric, plastic materials. It can be applied to fix footwear, solar lights and dishwashers or plastic boat parts, attach wooden furniture legs, seal shower cabins, and bathroom fixtures. Thus, it's the stuff every handyman is to have in the toolbox.
The glue is also efficient on securing and mending glass. However, I guess it's recommended rather for the vehicle windows installation than glassware repair. Due to its high-performance and enhanced properties, it is to be dishwasher-safe, but, perhaps, not suitable to contact with the foodstuffs. During curing, the glass glue releases an unpleasant, acetic acid smell that is noticeable over several feet distance. So, I would recommend to use it only outdoors or upon making sure that the ventilation is properly arranged and to leave the room at once the sealant is applied.
Additionally, the glass glue sets during not less than 10 minutes and the applicator tip clogs often, sealing up the nozzle. If the layer hardens under the cap, pry it out with a small screwdriver.
Conclusion
The Permatex 80050 glass glue is versatile, waterproof and temperature resistant. It suits construction, repair and renovation projects, indoor and outdoor use. However, it releases an unpleasant odor until the glass glue cures.
Pros
versatile;
durable;
flexible;
drying clear;
resists vibration and weather;
high-performance;
temperature-resistant;
waterproof.
Cons
The glue glass releases an odor.
5. J-B Weld 50112 Epoxy Syringe: Quality Glue for Glass, Other Materials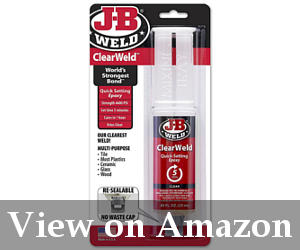 The adhesive is quick-setting and extremely strong. It takes only about 5 minutes to set, and in an hour the glass glue will be completely dry. However, it depends on the temperature. When it's lower than 40°F, the curing time may be a bit longer.
The tensile strength is 4400 PSI, so it dries really hard. Meanwhile, the seam is not completely clear, it's a bit cloudy. Additionally, the glass glue is waterproof, it's multi-purpose, versatile, and its applications are limited only by the fact that it can't be used underwater. Actually, the glue is the best for some kinds of repair, renovation, household projects. However, it releases the terrible, toxic smell, so, I would recommend to use it outdoors or in the areas that are well ventilated.
Interesting Opportunities
It bonds perfectly a lot of various materials, such as:
tile;
wood;
glass;
metal;
ceramics;
concrete.
As to the plastics, the glass glue can be used on PVC, polyethylene and composites, but of course, not on all kinds of plastic materials. Therefore, the basic glue applications are:
vehicles and motorcycles;
repair of furniture, toys and outdoor equipment;
ceramics and tiles;
plumbing;
craft;
industrial.
The glass glue is beneficially made in the USA, and its great advantage is the resealable caps that don't dry out, eliminating accidental mixing. The syringe is designed to eliminate any leaks, mess or waste of adhesive. It's really handy, easy to use. However, it's recommended to apply the glass glue to clean, dry surface, mix it thoroughly before use, apply with the suitable tool and wait for an hour to dry completely.
Conclusion
The J-B Weld glass glue is extremely strong, durable and reliable. It is versatile and waterproof, suiting multiple applications, except underwater. It dries completely, making a strong bond that is clear, but a bit cloudy. However, it smells terribly before setting, so, please, take the necessary measures.
Pros
strong;
durable;
waterproof;
multi-purpose;
quick setting;
handy cap;
made in the USA;
temperature and weather-resistant.
6. Judikins (GP005) Diamond Glaze Water-Based: Good Glue to Use on Glass and Jewelry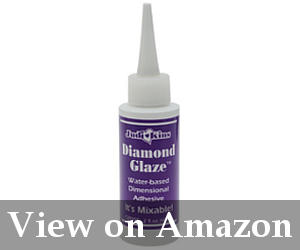 Seeking an answer to the question "What is the best glue for glass?", don't forget about the water-based adhesives. The glues of this kind are non-toxic, good on craft and hobby-related projects. The Judikins adhesive is a good example.
The glass glue is definitely not designed for household or construction applications. It is called Diamond Glaze, classified among crafts or fine arts supplies. Therefore, it's perfect on various jewelry, earrings, origami masterpieces, ceramic beads and other crafts. It can be also mixed with the paint and applied on metal charms, looking like enamel after drying and curing.
The glass glue is water-based. It is mixable with ink-based colors, so the artisans and craftsmen can create any color that is necessary to the masterpiece. It still dries fast, attaining the perfect gloss, glitter, glass-like or lacquer-like finish. Quite naturally, it's completely environment-friendly, non-toxic, and it is easy to clean up just with water and soap.
Verdict
The Judikins GP005 glass glue is water-based, environmentally-friendly, having no chemical smell. Mixable with inks, it is designed for various fine art and crafts projects, like jewelry making, attaining glossy finish after curing. However, it's not waterproof and not suitable for construction and household applications.
Pros
water-based;
non-toxic;
easy to clean up;
mixable with watercolors;
dries comparatively fast;
remains clear in years;
a real treasure of craft enthusiasts;
excellent hold;
kids-friendly.
7. Weldbond (8-50420) Versatile Adhesive: Best Glass Glue, Multi-purpose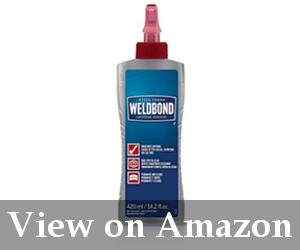 The adhesive is versatile, workable on bonding multiple materials such as wood, plaster, tile, linoleum, concrete, fabric, brick, ceramics, cork, and, of course, glass. It is recommended for various surfaces (both non-porous and porous ones), making a clear, strong seam after drying.
Note: To enable porous materials bonding, dissolve 1 part of the Weldbond adhesive in 5 parts of clean water.
However, it doesn't work on:
cast metals (iron, aluminum);
rubber;
some sorts of plastic materials (vinyl, polyethylene, PVC, Teflon).
Additional Information
The glass glue is water-based and, therefore, non-toxic and environmentally-friendly. It is tested and certified, UL2762 approved and meets the strong ASTM D4236 requirements. It means that its environmental impact is significantly reduced. Quite naturally, the glass glue is not cold resistant, freezing outdoors in winter. It doesn't release any fumes or smell, but the glass glue is not suitable for outdoor applications (it is UV and water-resistant, but not waterproof).
Store the glass glue at the temperature that is above than +50°F.
The adhesive can be easily dissolved with acetone, being beneficially paintable, using paint, nail polish, tea, but acrylic and latex paints and the most recommended. The time necessary for the glass glue to set is about 20-30 minutes, but the complete cure time is 24 hours. It is flexible and dries clean, otherwise, apply heat to let the seam air cure.
Conclusion
The Weldbond glass glue is water-based (PVA), therefore, it's environmentally friendly, but not water-proof and heat-resistant. It can be used on various materials and multifarious construction, household, repair, plumbing and craft projects, but only indoors, and not underwater.
Pros
versatile;
non-toxic;
works as a primer;
paintable;
dries clear;
flexible.
Cons
not the fastest to dry;
can't be used outdoors.
8. TroySys IC80HV-50GR Nano470: A Great Adhesive for Glass to Wood
The glass glue is recommended for crafts enthusiasts, handymen and house owners that prefer making minor household enhancements by themselves. It is perfectly versatile, workable on wood, rubber, carpentry, china and, quite naturally, glassware repair.
It is waterproof and reliable, coming with 60-days warranty, strong. The glue is also recommended for model building, toys repairing, jewelry creation, footwear and clothing repair projects. It ensures the strongest bond possible, being famous for industrial strength.
However, unlike the previously reviewed product, the glass glue is thick, of high viscosity level and very fast drying. It takes only up to 50 seconds to settle in, just instantly. Therefore, it is equipped with a special cap to be replaced every time after use. Squeeze it in the vertical position, let the excess glue to discharge and replace the cap. The liquid inside won't harden. Meanwhile, if you afraid that it still dries, keep the glass glue in the fridge.
Additionally, contacting with water, the adhesive turns white. So, I would still recommend it rather for carpentry, model building hobby and repairing of household glass equipment, for example, lighting fixtures, etc. As to kitchenware, this kind of glass glue is still not the best option.
Note: The glue irritates the eye and it is combustible. So, think about the safety measures in beforehand, reading the warning on the glass glue package.
Conclusion
The cyanoacrylate adhesive from Glue Masters is versatile, recommended for crafts, model building, carpentry and minor household renovations. It is great to bond various materials. The glass glue is thick, instant to settle down, strong and durable, but combustible, and, perhaps, a bit toxic before hardening.
Pros
thick;
easy to use;
instant;
durable;
versatile;
clear and shiny upon drying;
great bonding power;
suits hobby projects and DIY repairing tasks solving.
Cons
it turns white, coming in contact with water.
9. Shoreline Marine (Adhesive Clear): Strongest, Good Glue for Glass
Adhesive can be used on glass parts bonding and repair. However, it's initially designed for outdoor marine applications, such as boats, diving masks, air mattresses sealing. This glass glue is the only one able to stop leaks and resist continuous UV emission.
Quite naturally, it is waterproof and weather resistant. The glue seals with tight, strong, durable hold, and your renovated boat or kayak will be able to stand up to the harshest weather conditions. It is versatile, workable on wood, metal, laminate fabric and glass.
The glass glue is so strong that it virtually can't be removed. It can be only dissolved with Acetone, Naphtha or Toluene. Citrus-based solvents can be also applied, but, probably, not quite efficiently. The adhesive is single-component, so, I guess, it is latex-based.
The glass glue also works on wet areas such as bathrooms or shower doors, drain pipes while plumbers often use it. However, it releases smell, so, it is to be used outdoors only or in properly ventilated rooms and premises. Additionally, it takes about 72 hours for the glass glue to dry completely.
Conclusion
Shoreline Marine glass glue is extremely strong, durable, UV-resistant and waterproof. It is versatile, but the best on stopping leaks in boats, kayaks, wetsuits, etc. Use it outdoors or in properly ventilated areas, as it really releases an odor.
Pros
waterproof;
UV-resistant;
suits marine applications;
efficient in wet areas;
durable;
flexible;
virtually clear;
strong;
versatile;
weather-resistant.
Cons
it takes 24-48 hours to dry completely.
10. Devcon (31345) 2 Ton Clear Epoxy Gel: Better Glue for Glass to Metal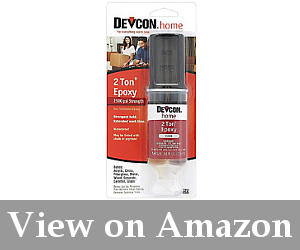 The adhesive is extremely strong, standing out by the increased impact strength. It is heat and cold resistant, withstanding the temperature from – 60 to +180 °F. Additionally, it is really waterproof, resisting various solutions such as salt ones, antifreeze, oil, gasoline. The glass glue is very durable and long-lasting, remaining reliable and transparent in a year or two.
I would say, the glue is versatile, suitable for various applications, from fiberglass, ceramic, china, kitchenware repairing to outdoor furniture renovation. It can be applied to the various craft project, like making earring, antique inkwell repairing or attaching handles to the knives. The glass glue is paintable; upon curing, it can be tinted with pigment or chalk. It works well on attaching crystal pieces to each other, producing strong, durable and clear bonds.
Being workable on cement, stones and metal, withstanding harsh weather conditions, it works well on construction tasks solving. The glass glue is epoxy by nature, so, it evidently should be dishwasher safe, but, unfortunately, the manufacturers provide no information about the properties of this kind. It produces no chemical smell, being suitable even for the people that suffer from allergic diseases.
However, the glue sets and dries quite slowly. The liquid is not very thick, so, it's advisable to use scissors to snap the cap off and a toothpick to mix and apply the adhesive. The cure time is 8-12 hours, so you are to be patient. Additionally, as most of the top-quality adhesives, the glass glue doesn't work on plastics. But I still recommend it for indoor and outdoor application, various household and craft projects.
Final Conclusion
The Devcon 30-minute glass glue is strong, waterproof and versatile. It stands out by the increased temperature solutions and heat resistance. However, the glue is a bit watery and slow to dry, and it is not suitable for bonding plastic materials.
Pros
strong;
clear;
non-shrinking;
versatile;
heat and cold resistant;
waterproof;
non-toxic;
paintable;
easy-to-apply.
Cons
not the fastest to set;
a bit watery.
FAQ
Now let's deal with the most common questions.
How to Glue Glass to Glass?
Quite naturally, it depends on the type of glass glue that is used at the moment. For example, using an epoxy-based glue like the J-B Weld adhesive:
join two pieces of glass, checking their future position;
apply the suitable coats of the glass glue to the pieces;
press them together;
allow the repaired glass stuff to sit together and dry for several hours, at least.
What Do You Use to Glue Glass Together?
In addition to the glass glue itself, additional stuff is commonly necessary, such as:
a clamp;
a foam brush;
paper;
several toothpicks.
Clamping method works on virtually all glue types, excluding the fastest-drying ones. The glass parts that dry completely in 24 or 48 hours are to be positioned properly. Additionally, think about the way to use the glass glue carefully and promptly, avoid the fingers sticking together, remove the excess glue residues. If you are using a toxic glass glue that smells hard, don't forget about wearing gloves, safety goggles, and a breathing mask.
Broken mirror can be successfully fixed, using a super glass glue like the Gorilla gel that is fast-to-dry. Just attach it to the cardboard housing, wait for some minutes and then glue it to the metal base. Some minutes more and… it's done!
What is the Best Way to Glue Glass Shards?
Various decorative glass figurines, flutes or crystal vases are the best to be repaired, using silicon and latex-based adhesives like the E6000 or the Permatex. Therefore:
clean the glass pieces with soap and water;
apply the glass glue along the broken edges;
press them together;
let the glue set and cure;
use a razor blade to remove the excess glass glue.
What Glue Should I Use for Glass?
There are 5 basic types of glass glue:
PVA (water-based);
cyanoacrylate;
epoxy-based;
polyurethane;
silicone.
Each of them has benefits, drawbacks and the preferred applications. Let's go into details.

Buyers' Guide
The answer to the question "What kind of glue works best on glass" is not completely clear. It may depend on multiple factors, such as:
if you are going to use the glass glue outdoors or indoors;
if the stuff will have contact with water;
the temperature ranges and humidity;
the stuff or the glass pieces' dimensions and use.
Therefore, it's not so easy to select the best-suited glass glue for every given case.
Commonly Used Types of Glass Glues
Wondering what type of glue to use on glass, we definitely mean the certain application, the essential chemical properties and performance.
Epoxy glues are designed for providing strong, reliable bonding. The adhesives suit multiple projects and applications, appropriate even in extreme environments, having great water, heat, chemical resistance properties upon drying. The glass glues are commonly sold in two parts: the resin and the hardener. Their curing time maybe not the shortest; it depends on the product. For example, the J-B Weld glue sets faster than the Devcon However, the epoxy-based glues are among the best ones to bond glass to glass, because the pieces hold perfectly good, set firmly and dry clear.
Polyurethane glues are strong, durable and versatile, working on multiple materials. The Gorilla Super Gel is a good example. The glass glues stand out by the phenomenal waterproof properties and tensile strength. They are among the most workable on bonding glass to glass or the other materials, as they ensure secure bonds and dry incredibly fast.
Cyanoacrylate glues (CA) is a kind of the adhesive that is called Super glue or a "krazy glue" glass can be easily and successfully fixed with. Standing out by thick viscosity, it sets quickly, forming a strong and clear bond. The CA adhesives, for example, the product from Glue Masters, are recommended for various DIY and hobby projects. However, the glass glue is runny and messy, so, don't forget to wear the gloves.
Silicone-based glues stand out by the increased thermal and chemical stability, as well as complete transparency. They contain oxygen and silicon atoms that ensure enhanced water-resistance. Therefore, a glass glue like the Permatex one is flexible, weather-resistant, perfectly withstanding vibration, heat and cold, so, it beneficially suits multiple indoor and outdoor applications.
PVC (Polyvinyl Acetate) glues are water-based, and therefore, non-toxic, environmentally-friendly. Therefore, the glass glues like the products from Judikins or Weldbond are the safest and the work on indoor applications the best. They perfectly suit multifarious craft products, can be used by kids, being easily cleaned with water, but, still, extremely efficient on bonding various materials, including glass.
Other Aspects of Selecting a Glass Glue
Thinking about what glue sticks to glass, don't' forget about the viscosity. This property relates to the liquid's consistency level.
Low-viscosity glass glues are preferable as they are fast-drying, have perfect dimensional stability, ensure the strong bond, penetration between the glass pieces' joints.
High viscosity is preferable for construction and heavy-duty projects. It requires virtually no pressure for setting and curing. The glues work great on bonding glass to metal, stones, concrete and the other materials.
Additionally, using a glass glue, follow some helpful tips:
check the product's shelf life and don't apply the adhesive after it exceeds;
keep the nozzle from clogging;
don't forget to wear gloves;
consult the instruction;
follow the safety measures.
Use only the branded items from the well-known producers that are intended for glass bonding. I recommend you only the best glass glues I have tested personally and that are proven by the experts.
Final verdict
Choosing the best glue for glass, opt for one of the top-quality products, taking into account its applications. For glassware, decorative stuff fixing and repair I recommend the Loctite glass glue, as it's dishwasher safe, heat resistant and the fastest to dry. E 6000 adhesive is the best for fixing delicate items. The Judikins item is preferable for craft projects. For outdoor applications, I recommend the Permatex glass glue the most, as it is water, vibrations, and temperature-resistant.
Use also the other glass glues I recommend herewith, as all of them are versatile, drying clear, top-quality and efficient, but don't forget about the safety measures and ventilation, especially when using fast-drying, toxic and strong-smelling adhesives.