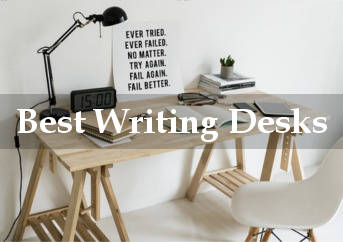 Whether you are a freelancer working from home or a college student, you are probably concerned about getting the best writing desk. If you spend a considerable amount of time reading, writing, sketching or working on a computer, it is important to have a comfortable and functional work zone.
Needless to say, a writing desk should also be visually appealing and in line with the design of your home office or study. There are many great products on the market, but we have selected 5 best desks for studying and working. All of them are functional, durable, stylish, and affordable. So let us start exploring!
Best Writing Desks in 2023
[amalinkspro_table id="522″ aff-id="glassdeskguideapi-20″ new-window="on" nofollow="on" addtocart="off" /]
1. Sauder Carson Forge Desk 412920 – A Large Writing Desk with Three Drawers
This classy writing desk can become a central piece of your home office arrangement. Its solid and robust look can help you stay focused while working at home. This desk offers an ample space for writing, working on a computer, calculating bills, running over the daily press, and all kinds of other tasks. It is not oversized, yet spacious enough to accommodate all the necessities without looking overloaded.
The Sauder Carson Forge desk is made of engineered wood with a classy Washington cherry finish. Metal details and hardware accentuate the unique style of this writing desk and lend it a rustic vibe.
As for organization and storage, this writing desk has a well-thought-out design. It features three drawers of various capacities: a desk drawer and two cabinet drawers. The lower one features a hanging file system for organizing letters, bills, and other documents. All the drawers run on metal rails with stops.
Interesting Features
Made of engineered wood.
Washington cherry finish.
Metal hardware in old-fashioned wrought-iron style.
Dimensions: 53 1/4″ wide, 22 5/8″ deep, 29 3/4″ tall.
Three drawers.
Pros
Generous desktop space for all kinds of writing tasks.
Firm and sturdy construction.
Classy design.
Features a hanging file organization system.
This writing desk is not bulky.
Verdict
The Carson Forge writing desk is a product of a US-based furniture manufacturer. It is made of engineered wood with a realistic cherry finish. This desk is just the right size to provide a comfortable workspace for all sorts of tasks, including writing, reading and studying. If you want to create a home work zone that is both stylish and professional-looking, you might appreciate a classy rustic-inspired design of this writing desk.

2. Convenience Concepts Designs2Go Trestle Desk – The Best Desk for Students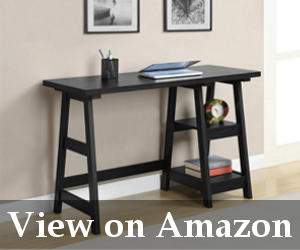 This minimalist trestle desk was designed to go with contemporary style interiors. Simple design with clean lines and open shelves gives it an airy look. This desk might be a good choice for tight spaces, where not only size matters but also visual airiness.
The Convenience Concepts trestle desk is available in 6 classic finishes, ranging from white to black. With such a wide range of choices, it will be easy to find the one that would match the color scheme of your home office, dorm room or study. The desk is made of laminated particle boards with different finishes: a desktop and shelves feature a wood grain finish, while legs and planks are smooth.
This writing desk looks rather compact, but it actually provides an ample space for work and storage. With this desk, things that are stored on the shelves will be on display. That suggests that you should use some creativity to arrange them in such a way so that they become a part of the design.
Features and Benefits
Trestle style.
Made of laminated particle board.
Available in 6 finishes.
Dimensions: 47'' wide, 20'' deep, 29'' tall.
Two shelves.
Pros
This writing desk has an airy and unobtrusive look.
Open shelves provide ample storage space with some room for creativity.
Sturdy and built to last.
Verdict
The trestle writing desk from Convenience Concepts is a versatile desk that can be used in a wide range of different settings. Its unobtrusive design will easily blend in with any room decor. If you are looking for something different than a traditional writing desk with drawers, then this might be a good option to consider.

3. Leick Corner Computer and Writing Desk – A Classy Writing Desk, Antique Style
If you want to bring some antique charm to your home office, you do not necessarily need to rummage around in vintage stores or at flea markets. This corner desk from Leick Furniture looks as great as old-fashioned bureaus of 19th century, but it is brand new and can be delivered right to your door.
The desk is available in several finishes, but the mission oak version bears the closest resemblance to vintage furniture pieces. Old-fashioned metal hardware goes well with the veined wood finish and enhances the visual effect.
Unlike most of the mass-market furniture, this writing desk is made of solid wood and high-quality birch veneer. It is expected to be more sturdy and durable, as opposed to desks made of press-boards or fiberboards. Besides, the look and feel of real wood is exceptional and cannot be replicated by composite materials.
This corner desk is great for reading, writing, and working on a computer. It is compact and does not take up much space. It can easily fit in a corner without cramming the valuable space in your office or apartment. If you plan to use it as a computer desk, its lower shelf can accommodate a CPU tower and peripherals, while a front drawer with a flip-down lid can be used as a keyboard tray. The drawer slides all the way out to provide you an easy access to all the items stored inside.
Interesting Benefits
Made of solid hardwood.
Designed for corner placement.
Measures 48 inches in width, 24 inches in depth and 30.25 inches in height.
Available in 4 types of finishes.
Vintage-inspired design.
Pros
This is a dual-purpose desk. It can serve as a writing desk and as a computer table.
Its compact size allows it to be used even in small spaces.
Sturdy and durable.
Easy to assemble.
Features a grommet for cable management.
Cons
This table will look appropriate only in a corner. In other locations it will look out of place.
Quite heavy and not easy to move around.
Verdict
The Leick writing desk might be a great option if you are looking for a compact desk that can be placed in a corner. It is made of solid hardwood, which makes it sturdy, durable and visually appealing. This desk can easily accommodate a computer or be used for writing and studying. For added convenience it features a capacious drawer, a lower shelf and a cable management grommet.

4. Winsome Wood Writing Desk – The Best Desk for a Small Home Office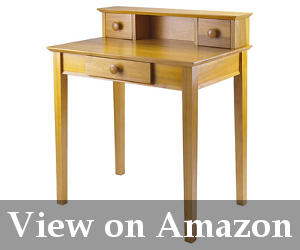 If you are short on space but do not want to compromise on style and functionality, this compact writing desk from Winsome Wood might be the right choice. Safe to say, this is one of the best small desks in its class. Measuring only 30 inches in width it will easily fit into any nook saving you some valuable living space.
The Winsome Wood writing desk is made of beechwood and features a warm-colored finish. Its simple design will blend in well with any room decor. The desktop provides sufficient space for reading, writing, studying or working on a laptop. A raised shelf offers additional room for keeping the necessities at hand or can simply accommodate a flowerpot, a figurine or any other small decoration piece you prefer. Two hutch drawers, a desk drawer and a cubbyhole will help you organize stationery and keep your work zone clutter-free.
Because of its compact size and warm-colored design, this desk might be a good choice for a teenager's room or a study. Alternatively, this writing desk can serve as a dressing table. To help you style your apartment or home office, a manufacturer offers matching pieces, including a computer table, a corner table and a bookshelf.
Interesting Characteristics
Made of solid beechwood.
Width: 30 inches , depth: 20 inches, height: 34.8 inches.
Honey-colored finish.
Storage options: three drawers and a cubbyhole.
Pros
This writing desk is as compact as it can be. It is perfect for small space living.
Easy to put together.
Designed in a contemporary style that will match any living room or home office setting.
Cons
The drawers do not have stoppers, so you will have to pull them out carefully not to let them fall out.
Verdict
The Winsome Wood writing desk is great for apartment living, college dorms and integrated home offices. It is compact, yet functional. In spite of its small size it provides ample room for reading, writing, and web surfing. This writing desk with a hutch provides multiple storage options to help you organize stationery and other necessities. Although, you should keep in mind that the drawers in this desk are rather small and will not be able to accommodate some larger things.

5. International Concepts OF-41 Writing Desk – Best Desk for Designers and Creatives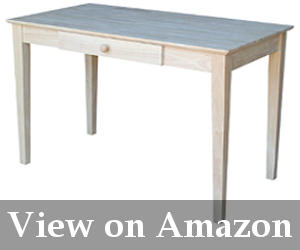 Whether you are arranging a home office in an already decorated room or just pursuing a specific design concept, it can be hard to find a desk exactly of the color you need. This is when unfinished furniture comes into play. International Concepts offers a minimalist style unfinished writing desk that can be used in a variety of interior settings.
The desk is made of parawood. This type of wood is comparable to maple in terms of strength and is rated between birch and ash based on density. The desk is durable and built to last. It comes pre-sanded and requires only minor assembly. To ensure the best staining result, the manufacturer provides detailed step-by-step instructions. On the other hand, if you prefer the unfinished look, you can leave it as is.
With only one front drawer it provides rather limited storage options, but the desktop space is so generous that it would be easy to arrange all the necessities on it and still have room to spare.
Useful Opportunities
Made of parawood.
Unfinished.
Measures 48 inches in width, 26 inches in depth and 30 inches in height.
One front drawer.
Minimalist design.
Pros
This writing desk can be custom-stained to fulfill even the most extravagant design ideas.
Spacious desktop.
Made of solid wood, which is more durable and sturdy than particle boards or engineered wood.
Easy to assemble.
Cons
Staining is a rather time-consuming job and requires some crafting skills.
Verdict
This customizable writing desk might be perfect for those who want to have a unique piece of furniture and are willing to get a little crafty. It is made of strong, high-density wood and comes pre-sanded and ready for assembly.

How to Choose the Best Writing Desk – A Buyer's Guide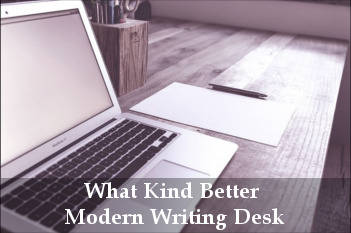 A proper writing desk can make a difference in your home office or study. Not only will it help you increase productivity, but also can add a touch of style to the room. So what are the main choice criteria when shopping for writing desks for working at home?
First of all, you should determine where a desk will be located. If it is a nook or a corner in a living room, then you should choose among modern writing desks for small spaces. For a dedicated home office or a study size does not matter that much and here you will have more flexibility. Nevertheless, it is important to plan the layout of your future work zone and measure the space accurately to ensure that a writing desk will fit in.
Main settings
Color and design
Many writing desks are available in several finishes. Most of them replicate different shades of wood; black and white executive desks are often among the options as well. If you need something more extravagant, you can buy an unfinished desk and paint or stain it by yourself to achieve the exact look you have envisioned.
Material
High-end writing desks are all made from natural wood solids. But you do not have to pay hundreds (or even thousands) of dollars for a desk. Good quality wooden desks are available at more affordable prices. You should always take into account the kind of wood used in each particular product. Different kinds of wood vary in density and strength. Both of these factors are important since they determine how durable the end product will be. Another option is to buy a writing desk made from engineered wood or laminated particle boards. Such products are usually cheaper but can be quite decent. Perhaps they will not last as long as solid wood desks, but considering the price, they usually live up to the expectations.
Storage
You should plan ahead where you are going to keep stationery items and other necessities. Most writing desks are designed with at least one drawer, but there can be a plenty of other variations. Desks for small spaces with storage shelves can help you stay organized and use every inch of your work zone effectively.
What Kind Better Modern Writing Desk: Conclusion and Recommendations
It is easy to find a good writing desk, but if you need a great desk, you have to try a little harder. The good news is, five great options are already on your list. Besides, there are so many cool desks for small spaces out there, you just need to know what to look for. If you are not sure what exactly you need, you can browse the Internet and find a plenty of small bedroom desk ideas or small desk space organizing ideas. Armed with the information provided in our buyer's guide you will definitely make the right choice.