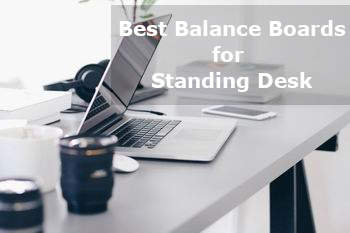 Do you work at a standing desk? It's better for your health than sitting all 8 hours long. This way, you think about your posture throughout your day, concentrate on your daily tasks. So, your overall productivity is increasing. Meanwhile, why don't you add some motions? Best balance board for standing desk helps you to improve coordination, posture and core strength. This standing desk exercise equipment is versatile, compact and useful.
Which one to choose? It is to be durable, equipped with non-slip surface. This lightweight exerciser is to fit your weight. Don't forget to check the limit. An office balance board is a bit more stable, stylish and convenient than other balance trainer types. They are to meet needs of beginners or intermediate users, letting you making exercising pauses during the day. So, let me highlight several perfect products.
5 Best Balance Boards for Standing Desks – in 2023
Image
Product
#1. FluidStance Plane Cloud


Weight, lbs - 7.05
Dimensions, in. - 24x12x2.5
Surface Material - rubber
Weight Limit, lbs - 250

Check Price


Read Our Review
#2. StrongTek Butterfly


Weight, lbs - 6.6
Dimensions, in. - 20x14x2.2
Surface Material - (PU)
Weight Limit, lbs - 400

Check Price


Read Our Review
#3. Well Desk


Weight, lbs - 9.2
Dimensions, in. - 26x11.5x2-6
Surface Material - duragrip rubber
Weight Limit, lbs - 450

Editor's Choice


Check Price


Read Our Review
#4. Gaiam Evolve


Weight, lbs - 6.5
Dimensions, in. - 27x12x3.65
Surface Material - PU
Weight Limit, lbs - 300

Check Price


Read Our Review
#5. Victor ST570Steppie


Weight, lbs - 5.73
Dimensions, in. - 22.4x14.5x2.1
Surface Material - plastic
Weight Limit, lbs - 440

Check Price


Read Our Review
1. FluidStance: Balance Board Standing Desk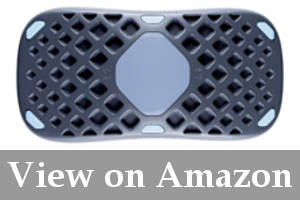 Do you need all-day comfort? Of course, you do. Therefore, 360-degree motion is recommended to avoid posture problems, stiff ankles and knees. Therefore, underfoot instability is beneficial. It's necessary when you work. This way, your body is engaged, and sedentary lifestyle implications are eliminated.
What's so special about the Plane Cloud balance board from FluidStance? It stands out by a comparatively small footprint and comfortable top surface texture. Movements in multiple directions are allowed: from side to side, from heels to toes, with complete, 360° freedom.
You are free to wobble or tilt as you want. Manufacturers call this balance "omnidirectional". The company has built this product, taking into account innovations, based on scientific research by Mayo Clinic. It's proudly made in the USA, by a reliable producer. The boards are thoroughly quality tested before delivery.
FluidStance is called a Company of Motion since 2015. It's based in Santa Barbara, California. The range of boards or desk is not large. However, other products show ultimate materials sustainability. Natural wood is as beneficial for your health as motion.
Features and Specifications
Plane Cloud item is made of safe, recycled sawdust. It's formaldehyde-free, odorless. The deck's top is completely covered by rubber. This surface is non-microbial, killing odors, durable and soft to touch. Meanwhile, it's 100% eco-friendly, made of recycled rubber tires (low-emitting ones).
The base if molded from plastic that is high-molecular HDPE. It eliminates noise and floor scratching risks. Patented bumpers and edge limits are designed to make your motion comfortable and efficient.
Pros
safe;
ergonomic;
comfortable;
eco-friendly;
durable.
Cons
weight limit is only 250 pounds.
Verdict
Therefore, I recommend the deck to you. The standing desk foot accessory helps you to improve your working or studying productivity at 19.2%. Using it lets raise your heart rate at 10-15%. Your motion is similar to walking, so, it's beneficial. Additionally, a1-year warranty is fortunately provided.

2. StrongTek: Compact Balance Board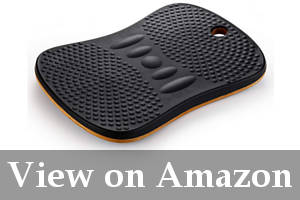 Working in an office, you would need to carry the board there and back home. So, the portable item that is only 20-inches long, is beneficial. It's a wobble board that makes your body muscles work. It keeps your legs and core active, reducing fatigue.
Relieving foot tension is essential if you stand at the counter or desk all day long. Do low-impact exercises or massage your feet, standing on the board. This way, you improve your agility, strength, focusing on your daily tasks.
Meanwhile, it's massaging, anti-fatigue effect is remarkable. Therefore, standing on the surface by bare feet or wearing only socks is beneficial. Wearing shoes is not recommended. The surface is textured, coming with pressure points. They gently massage your feet, keeping you energized and healthy.
The butterfly mat shape is beneficial. What are the materials? Top-quality plywood or natural hardwood is inside. Does it matter? Yes, as the materials are odorless, non-toxic. The top, textured mat is made of latex or pure polyurethane (PU). It's high-dense and pleasant to touch.
Additional Information
By the way, it's strong and durable enough to contact any footwear type. However, massaging effect would be desensitized. Tilting angle is only 8.5°. So, the board is steady, safe, easy to use. Bottom, base side is also not bad. It's skid-resistant, anti-scratch. Standing surface is made of natural rubber. You may place it on any luxurious floor and train with no slipping risk.
Weight Limit is up to 400 lbs. Thus, if you are going to lose weight, it could be your choice. So, I highly recommend this item. It's made in the USA, in Sugar Land, TX. The company is young, established in 2017 and small, but reliable. I would only use the board at home, without shoes or in a back office that doesn't serve customers.
Pros
lightweight;
compact;
massaging effect;
low-profile;
soft.
Cons
too small for short people.
Verdict
I would recommend this product to women. It's lightweight and versatile, suiting beginners. This product may be efficiently used as a privacy board for desks. Its fitness level is described as easy. It's ergonomic by design, small and smart. As for exercise equipment, balance board is efficient. It requires minimal efforts to wobble, fortifying your stability and strength.
3. Well Desk: an Adjustable Balance Board for Stand up Desk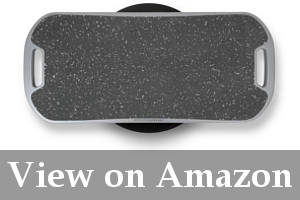 Do you consider your daily job tiring? Standing 8-hours-long at the office or serving customers at a counter could be tiring. Do you want to avoid any health problems? Just find a balance board that can be used in public. Revolution Focus meets these tasks. It looks great, suiting any fashionable office design.
The board is sturdy. It lets you exercise, wearing any kind of shoes, including heeled ones. The construction is reliable as it withstands weight up to 450 pounds. The Duragriptop surface is durable. It easily maintains traction. 2-year warranty against defects is a good reliability proof.
So, if you are a stout person, having no possibility to take off your shoes at the office, you are to train anyway! It helps you to avoid knee pain and fatigue. What is outstanding and beneficial about this product? Revolution Focus is fully-adjustable.
It consists of 2 pieces, allowing you to engage all your body muscles, including core ones. The bottom, round cushion base is adjustable by height. It might be 2or 6 inches, depending on your desk design and your preferences. Inflate the cushion when you need to raise it. It's easy, requiring no pump usage.
Meanwhile, when the cushion is inflated, training becomes more difficult. This way, you regulate your workout complexity. The base wouldn't scratch your floor. Additionally, it's completely quiet. Rebounding bumpers are available on both board's sides.
So, place it anywhere at the office or shop, on any surface, including carpet and fashionable hardwood. Rubberized feet enable it. You get no complaints from your co-workers or chiefs, except jaundiced eyes. By the way, the board is made of eco-friendly materials. The core includes sustainable harvested wood. Coating is water-based. Rubber grip is reliable and non-slip.
Interesting Facts
Most importantly, this product is the only one among Revolution Balance Boards that meets fitness goals. Other trainers suit sports applications. They help athletes, riders and fitness enthusiasts improve their skills. Meanwhile, Focus is sustainable, durable, heavy-duty and efficient, as well as professional equipment.
Pros
adjustable;
quiet;
no scratching;
durable;
easy to use.
Cons
deflates slowly when the stopper is not under the board;
not too easy to carry in a bag.
Verdict
So, I recommend this balance board to beginners and intermediate users. It's comparatively compact, suiting everybody and fitting any room or office. The board is made in the USA, by the company, located in Charlotte, North Carolina. It might be not too experienced, as the year of establishment is not indicated on the manufacturers' site.

4. Gaiam Evolve: Compact Stand Up Desk Balance Board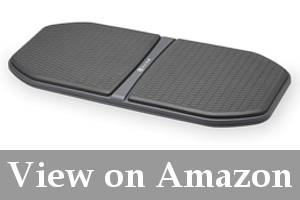 Working in an office, bank or shop, standing for multiple hours a day or night at a desk, use this perfect balance board. It meets needs of clerks, students, cashiers and sales associates. That is, if you are a hard-working person, it's your choice. Grey and black colors are neutral, matching any room or office design.
At first glance, the board seems to be slim and compact. It's lightweight and portable. If you need to carry it in a bag or backpack every day to the office and back home, it's not difficult, even if you are a slim girl. Meanwhile, the board's dimensions are sufficient to fit tall and big-footed people. Male athletes and sports enthusiasts feel comfortable, using it.
Quite naturally, this rocker board initiates low-impact micro-movements. It was initially built as a standing desk balance anti-fatigue accessory. How does it work? Standing at a counter, desk or bar, you assume neutral position. Your standing posture becomes better.
Fatigue and soreness are eliminated. Moreover, using this innovative accessory, you may avoid over-pronation. How is it possible? Thanks to ergonomic board's design, your ankles and feet are properly aligned. The top surface is comfortable and non-slip. Its honeycomb texture is beneficial, providing security and comfort.
Meanwhile, your stabilizing muscles are engaged. Muscles of your core, legs and back are stretched and challenged. It helps you feel active, focused on your significant or routine daily tasks. Therefore, your productivity increases.
Interesting Characteristics
What is the mat surface made of? Top-quality, polymer materials are used, such as:
Polyurethane (PU).
PVC.
Thermoplastic rubber (TPR).
Bottom, base surface is non-slip, reliable and stable. It is versatile, allowing placing on both carpet and hardwood floors. It provides a very mild bump, encouraging your perfect posture anytime. However, check it twice, as on non-carpeted floors it still might be a bit slippery.
The top mat is polyurethane or rubber. It's honeycomb, looking like foam, but built-to-last. Its quality is still a bit poorer than its popular counterparts have. After several months of heavy use, it crumbles and comes apart. It seems that is was glued not properly well.
Pros
functional;
ergonomic design;
lightweight;
low-impact;
versatile.
Cons
common top mat crumbling issues;
not sturdy enough to fit stout people, heavier than 250 lbs.
Verdict
Nevertheless, I recommend you using the Gaiam Evolve board. Is it made in the USA? I think so, as it's based in Broomfield, Colorado. At least, the company customer service is friendly and responsive. By the way, the company is larger and more experienced than its famous competitors. Gaiam was established in 1988. Its range includes multiple products for yoga, lifestyle, recovery and meditation.

5. Victor ST570 Steppie: Stable Balancing Board for Exercising
If you stand at work and need some low-impact motion, Steppie board may become a great complement to your desk. It's simple, unobtrusive, but still ergonomic and healthy to use every day. Meanwhile, this product is stylish, contemporary by design, matching any modern study or office environment.
By design, Steppie differs from most of its popular counterparts. Its surface is firm, made of molded plastic. So, you don't need to step on it by bare feet. No massage effect is anticipated. Any type of footwear may be used. Heels with metal taps wouldn't scratch or damage this durable surface. It's not desirable to use that kind of shoes while exercising, anyway.
Meanwhile, such a firm surface has some benefits. It's easy to clean and carry. This product is perfectly lightweight and compact. It is equipped with hidden handles on the sides. So, you don't even need a bag or backpack to carry it. Just pick it up and take the board to the office.
It is comfortable that it's not cushioned? If you overdo moving, it might be tiring. Meanwhile, the surface is supporting. It doesn't let your feet sink in. On the other side, over-pronation is beneficially avoided. Only side-to-side movements are allowed. Is it a drawback? Not at all.
What causes undesirable strain in your ankles and legs? Various spine curvatures and deviations are harmful. Avoid blood congestion, joints immobility in any situation, even if you are very busy, striving to meets urgent deadlines. Your body weight is to be evenly distributed. Therefore, when your ankle and foot maintain equilibrium and a straight line with your body, it's what you need to be healthy.
Useful Information
What else would I tell about the board design? It's grey and plastic, fitting modern office furniture and lifestyle. Using the balance board with standing desk is advisable. Motions are unnoticeable but helpful.
On low-pile, flat carpets, it's safe and secure to use. On hardwood surfaces, it might be a bit slippery. Placing a mat underneath could be a good practice. The board is not adjustable, but simple, intuitive to use. Its weight capacity is high, up to 440 lbs. The board suits tall people, up to 6-ft. However, check also your desk height, to work in comfort.
Pros
simple, ergonomic design;
easy to carry;
lightweight;
intuitive to use;
functional.
Cons
not adjustable;
no massaging effect.
Verdict
As a result, I recommend this balance board to all hard-working office workers. It was invented by Danish acupuncturist Gitte Toft. This invention was made in 2013, based not only on researches results but on clinical practice. The board is made in Denmark. Meanwhile, it's top-quality, handy and efficient to prevent various health issues.
Buyers' Guide
Do you work, sitting at a desk? It's not healthy. Nowadays, it' well-known that sedentary lifestyle is harmful. Lack or absence of physical activity causes direct and indirect health effects.
According to the National Institute of Health, they might include:
pack pain;
heart diseases;
obesities;
diabetes;
migraines;
anxiety;
high blood pressure.
Are there any suitable solutions? Active traveling, including walking and cycling, is beneficial. Additionally, try to find balance between standing and sitting. Based on the research, conducted by the University of Waterloo (Canada), scientists recommend making pauses every hour, standing for15 minutes at your workstations.
Additionally, they advise to adjust your chair height, watch your posture and consider the distance from the monitor to your eyes. Using best writing desk that is adjustable by height and comfortable is a must. Additionally, wear comfortable shoes when you work multiple hours a day.
Here you can see more information about best writing desk!
Benefits of Using Standing Desks
Taking into account the recent scientific inventions, standing desks are becoming popular and widely used pieces of furniture. An adjustable workstation lets you stand up while working and use it while sitting comfortably.
How can you change your desk's height? Commonly, it's adjusted automatically, using motors and electronic control devices. Just press the button and move! These simple actions are beneficial, as you avoid continuous sitting. No material limitations exist nowadays. It might be a modern glass computer desk, wooden, plastic or metal furniture.
Meanwhile, working at a standing desk, you:
Feel better.
Avoid obesity and serious health issues.
Reduce back pain and leg strain.
Control your posture.
Spend less time sitting.
Improve your energy level and mood.
Live longer.
Adding a balance board for standing desk benefits makes your lifestyle healthier, even if you work 10-12 hours a day. Do you think you stand and exercise, forgetting about your working tasks? Not at all. You feel better, active and energized. It allows you to focus on daily chores and succeed.
Here you can see more information about best glass computer desk!
Do Balance Boards Work?
Standing up every hour and stretching your legs is beneficial. Adding low-impact, micro-movements makes fun and promotes developing essential skills, including:
coordination;
balance;
reaction time;
steadiness;
core strength.
Proprioception is developed. Due to this subconscious ability, you sense your body positions and joint movements. This system makes your body contract or relax, according to the situation. How to work on balance? You commonly dance or do exercises to improve coordination. Being very busy at work, you still can move a bit, becoming more active and alert.
According to research, continuous postural control and stability are essential while you are working. So, moderate exercises throughout the day help you stabilize your body muscles. They activate your energy, keeping you alert. Low back pain is reduced. Additionally, maintaining equilibrium, your muscles become stronger, avoiding fatigue. Therefore, falls and injuries are prevented.
Does a balance board help you lose weight? Fitness machines that require minimal efforts on your part are still efficient. When you use them daily, they tone you up. Moderate, low-impact exercises keep your body shaped. Every time, your heart rate is raised, it boosts metabolism. I wouldn't tell, you burn fat at once, as this process is very slow. However, in a year or several months, you'll see the result.
Which Type of Balance Boards to Select?
Choosing a balance board, you consider your standing desk's size, height and look. Quite naturally, you think about the room design, your preferences, needs, and fitness experience. Being a beginner, you might prefer low-impact exercises and cardio workouts.
Thus, physical therapy tools that are designed for office use, are divided into 2 groups:
Rocker.
Wobble.
How to get balance, using a rocker deck? It moves side to side, so it's not difficult. Some boards rock also back and forth, so 2 planes of instability are offered. This equipment is affordable and simple. It's commonly used for rehabilitation and physical therapy applications. It's recommended for beginners.
Wobble boards are more complicated. They provide complete freedom of movements, giving you a 360-degree tilt. These decks are pretty unstable. So, it's desirable to start using them, when you become proficient in balancing.
Roller boards also exist. However, they are difficult to move, being used as sports, training and entertainment accessories. They help riders, professional athletes and sports enthusiasts improve their skills.
How to Use a Balance Board?
Equipment of this kind may be used for professional applications. Ballet, athletics, gymnastics, etc. require perfect balancing skills. Exercises to do might be versatile and complicated. Meanwhile, at your desk, in a busy office, you wouldn't squat or lie on the floor, placing your feet on the board.
Starting training, I would recommend you to:
Wear flat-soled footwear or take the shoes off.
Distribute your body weight evenly.
Find a center of pressure or mass.
Introduce micro-movements.
Take breaks.
How long should you use a balance board? Quite naturally, you should not spend the entire day on it. Overtraining with low-impact equipment is hardly probable. However, it's recommended to wobble or rock for not more than 10-15 minutes per hour.
Standing steady on the floor between the exercises is advisable to make some pauses. Meanwhile, it's always possible to rotate your head, body, lean left and right, do mini-squats, move your eyes, letting them relax. You are free to do it even in a very formal office during your breaks.
General Conclusion
Revolution Focus is the best balance board for standing desk. It's adjustable, durable and high-capacity. Butterfly-shaped deck from StrongTek is known for its massaging effect, textured, rubber surface and functionality. Plane Cloud board by FluidStance is eco-friendly and ergonomic.