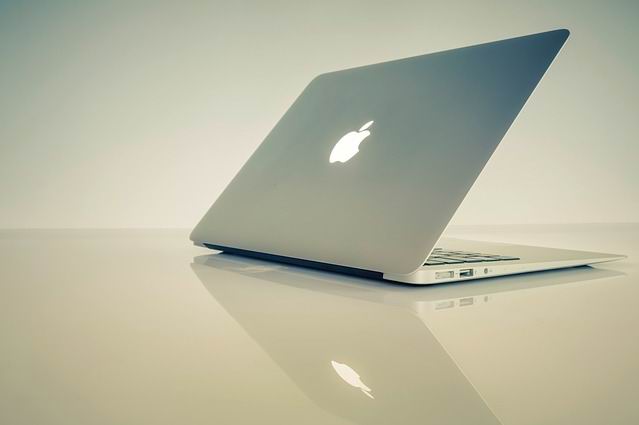 Incorporating a glass computer desk into your home or office design is always a good idea if you want to give your space a modern and airy look. Aside from its sleek design, which makes the room look more spacious and professional, glass desks have several other advantages. The versatility of designs available in this material is indeed stunning. Glass can be combined with other materials and textures, such as wood, veneer, metal or plastic. It can be tinted with different colors or come matted or frosted to match with the decor. Modern tempered glass, used by most manufacturers of computer desks is very durable, almost impossible to scratch, not prone to deformation or warping and won't be showing any signs of wear for a very long time. On the downside, glass desks require thorough maintenance since their sleek surfaces show off fingerprints and stains very well. Besides, one has to handle such desks very carefully, since they are very vulnerable to sudden impacts. However, if you follow the safety rules, using a glass desk would be only a positive experience for you.
So if no warnings can scare you away from getting a glass computer desk, then this review is for you. We have selected 5 amazing computer desks, each of which can become a signature element of your home office. They come in different designs and configurations to suit various needs and tastes. One thing they have in common is practicality and stunning contemporary look. So let's waste no time and move on to reviewing the chosen products right away.
| Product | Dimensions (D x W x H) | Design | Functional elements | |
| --- | --- | --- | --- | --- |
| Z-Line Nero Computer Desk and Bookcase(Editor's Choice) | 24 x 57.5 x 40 inches | Clear glass with black framing | 3-tiered storage unit, keyboard tray | Check Price |
| Z-Line Designs Cyrus Workstation | 26 x 48 x 36 inches | Black frame, mahogany shelves, clear glass | Keyboard tray, monitor mount, bottom shelf, castors | Check Price |
| Bell'O Computer Desk(Editor's Choice) | 21.5 x 31.5 x 30.2 inches | Wood and black metal frame, tinted glass | Keyboard tray | Check Price |
| Flash Furniture Glass Computer Desk | 23.5 x 39.2 x 29 inches | Wood and black metal frame, clear glass | Keyboard tray | Check Price |
| Acme Vincent Computer Desk | 24 x 32 x 30 inches | Industrial grey metal frame, clear glass | Keyboard tray, bottom shelf, castors | Check Price |
1. Z-Line Nero Desk and Bookcase – A Glass Top Desk with Storage Shelves, an Ultra Modern Black Glass Top Table.
This is a modern computer desk that can make a functional workspace in a home office or a study area. Its streamlined design gives it a professional, upscale look. The desk does not only look professional, it is also rather functional. It has a pull-out keyboard tray and a three-tier storage unit. It allows you to keep all the necessary things, such as books, files, and paperwork at hand. The shelf unit can be mounted on either side of the desk for your convenience. With this computer desk you won't need to buy a bookshelf or a file cabinet, so it can help you save some time and money.
All the surfaces are made of clear tempered glass, enclosed from the sides by metal frames. This computer desk is constructed in such a way that the glass corners are embraced by the frame, so they are quite safe. Moreover, the desktop and shelves have embossed edges.
The metal frame that holds the desk together is quite sturdy. It rests on six raised floor glides that ensure stability of the construction and protect the flooring. The frame is reinforced by support beams that connect the upper bar with the bottom bar.
Overall impression
Z-Line Nero computer desk is a stylish and functional computer workstation that can be used both at home and in the office. It comes with a three-tier unit that provides convenient storage space for books, documents and stationery. The shelves can also be used to hold computer appliances and peripherals, as well as file cases.
Pros
The computer desk provides a comparatively compact and functional workspace.
Modern, professional design.
The glass desk has a slide-out tray, large enough to hold a standard keyboard and a mouse with a pad.
The computer desk comes with a three-level storage shelf unit that can be installed on either side of the desk, depending on the room setting.
Thick tempered glass is embossed on the edges for enhanced safety.
Floor glides protect the floor from scratching and improve the stability of the glass desk.
Cons
The transparent keyboard tray does not allow you to use a laser mouse without a pad.
The keyboard tray is not very sturdy.
The metal frame has sharp edges, so the glass desk is not completely safe, especially for children.
This computer desk has no cable management system.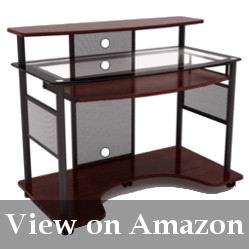 Z-Line Designs computer workstation is designed in a simple and austere style. The combination of black and mahogany gives the desk a somewhat bureaucratic vibe, which is, however, evened out by a clear glass top and sleek chrome supports. This computer desk has a rather classic construction, with a monitor mount, a pull-out keyboard tray and a bottom shelf to hold a tower case and other appliances. These parts are made of sleek mahogany laminate. The only glass surface in this item is a desktop, enclosed in a black frame.
The frame is made of circular metal tubes, reinforced by perforated metal panels in the back and on the sides. This glass desk is rather ergonomic and makes up a comfortable home or office workstation. The monitor mount leaves enough room on the desktop which you can use according to your needs. The raised shelf is sturdy enough to hold dual monitors or a small flat screen TV. The keyboard tray pulls out all the way from under the desk for the user's convenience. However, if you don't intend to use it, this part of the desk can be omitted.
The glass desk requires installation, preferably by two people. You can also order it pre-assembled for an extra fee.
Overall impression
Z-Line Designs glass desk is a sturdy and ergonomic unit that can serve as a standard office workspace, a studio setup or a gaming desk. It's designed in classic forms and colors, which add an austere and formal vibe to it. It has enough multi-level space on which you can arrange your computer and all the devices you might need for work. This glass desk will work equally well in both office and home settings.
Pros
Sturdy construction made of laminated particle board, metal and tempered glass.
Multi-tier design allows for effective organization of the workspace, especially if multiple appliances are used.
The frame of the glass desk is reinforced by perforated metal panels.
The back panel has three holes that facilitate cable management.
Castors provide effortless mobility.
The bottom shelf has a cutout that provides enough leg room.
The keyboard tray is rather spacious, so even a large gamer keyboard can fit on it still leaving enough room for a mouse.
Cons
The laminated layer is prone to peeling off.
The laminated surface is not water resistant, so any spills might cause shriveling, if not wiped right away.
The keyboard tray does not lock in the extended position.
Only two of the five castors have fixation, which is not enough if the computer desk is placed on a smooth surface. So it might shift a little as you pull out the keyboard tray or lean slightly on the desk while working on the computer.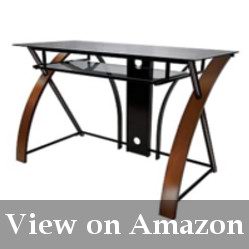 This glass desk is designed to fit into small spaces without sacrificing the style for practicality. It is compact, but yet very stylish with its signature curved legs, which make it stand out from the surroundings. Its sleek design is enhanced by glossy black framing and borderless transparent top. With no excessive elements the clear glass desk looks very unobtrusive.
In spite of its compactness the desk provides enough space to work and study at. The desktop is roomy enough to hold a computer monitor, a stack of books or magazines, a lamp, and some decorative elements. Since the keyboard is meant to be placed on a slide-out tray, there is plenty of room on the desktop for writing, reading or sketching.
The keyboard tray is not very spacious, but large enough to accommodate a compact keyboard and a mouse with a pad. Please note that a pad cannot be omitted since a laser mouse won't work on a transparent surface.
The desktop is made of tinted tempered glass. Its beveled edges are smooth and absolutely safe. Borderless design of the top adds a touch of elegance to the glass desk. A metal panel with two holes in the back of the desk is designed to help you organize cables neatly and easily.
Overall impression
The Bell'O computer desk is an elegant and streamlined furniture piece designed for tight spaces. However, its convenience is not sacrificed for compactness, so you can still enjoy comfortable working experience while effectively saving space in the room. If you intend to use only a laptop computer, you can omit a keyboard shelf when assembling the glass desk and obtain an even more understated look.
Pros
The elegant combination of curved wooden planks with glossy black metal framing makes the computer desk look ultra modern and elegant.
Sturdy metal frame.
The desktop has beveled edges for increased safety.
Borderless top makes the glass desk look airy and unobtrusive.
The desk has a cable management system that helps organize the workspace in a neat way.
The glass desk is compact and space-saving.
Cons
This is not a heavy duty computer desk.
The desktop has quite limited space, so if you place too many objects on it, it will look overloaded and untidy.
The keyboard tray is somewhat smaller as compared to similar models.
The top is attached to the framing with suction cups and glued-on metal bolts. Such a system of fixation is fine as long as the desk is not moved or leaned on. Otherwise, there might be problems with a desktop detaching from the frame.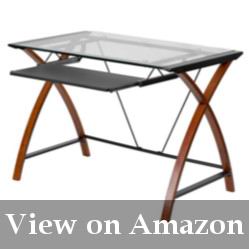 This is a compact glass desk designed in an elegant, pared-down style. Its minimalist form lends it an unobtrusive and airy feel. Its streamlined contemporary design is accentuated with bent veneer legs and minimalist black metal frame with powder coating finish.
The computer desk is equipped with a slide-out keyboard tray made of molded plastic with a metal edge that provides increased durability.
It is rather deep, so in spite of its compactness, it allows a user to work comfortably with a standard-sized keyboard and a mouse.
The desktop is made of clear tempered glass and rests on a rectangular metal frame with metal borders on the sides. It has no sharp edges, so on this account it is perfectly safe.
Overall impression
This glass desk might be a good solution for home offices or study areas with limited space. Not only does it occupy less space than most of the other computer desks, but also makes the room look less cluttered. This is not a heavy duty computer desk, but rather a compact space for working on a laptop or desktop computer, going through paperwork, reading and doing assignments.
Pros
Modern, unobtrusive design.
Compact size and airy appearance make it perfect for small rooms.
It's compact, but at the same time spacious enough to provide a comfortable work or study zone. It has enough room to hold a standard desktop computer or a laptop.
Rather sturdy, in spite of its thin frame.
Cons
The computer desk is rather hard to assemble, especially since the instructions are not clear enough.
The keyboard tray does not slide out all the way from under the top, so using a large keyboard might be quite a challenge.
The desk has no cable management system.
There is no bottom shelf to place a tower case upon.
5. Acme Vincent Computer Desk – A Compact and Portable Computer Glass Desk for Home Use.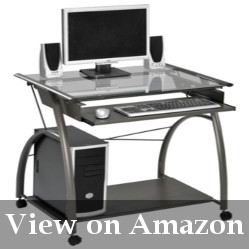 The Acme Vincent computer desk is exceptionally compact lightweight and portable. It measures only 32 inches in length, which is much smaller than most of the glass desks on the market. This might seem as a disadvantage to some, since there is not much room on the desktop to put anything but a computer. However, if you have a tight working space, this computer desk can be a lifesaver. It can fit into a corner or squeeze into a niche so that more space is left out to serve other needs.
The desk can accommodate a laptop or desktop computer without any additional appliances, except for a pair of compact speakers.
The desk is designed with a silver coated frame and a clear top. The framing rests upon four plastic wheels, which can be locked if you want the desk to be more stable. The bottom shelf is raised approximately 2.5 inches above the floor to provide and extra storage space and a place to hold a CPU, computer appliances or office supplies. However, if you prefer not to use it, it can be omitted to provide more leg room under the desk.
Overall impression
This is a compact computer desk, which might be highly appreciated by college students, people who live in small apartments and those who move around quite often. It is lightweight and portable, but serves its main purpose rather well.
It has just enough space to fit a standard desktop computer and maybe some additional devices, such as speakers or a compact printer/scanner.
Pros
If you are looking for a compact computer desk, this model would be the most beneficial for you.
The desk stands on wheels, so you can move it around the room easily when cleaning the floors or rearranging the furniture.
The desk has a sleek, contemporary look.
The computer desk comes with a pull-out keyboard and a bottom shelf to hold a CPU, so that it doesn't have to rest on the floor.
This computer desk is quite easy to assemble.
Cons
This is not a heavy duty computer desk, so if you are looking for a full-scale workstation, it might not be the right choice for you.
The bottom shelf does not allow for enough leg room.
The keyboard tray does not come out all the way from under the desktop.
Due to the limited space under the glass desk, you will have to spend some time choosing a chair that would fit.
This computer desk might not be very comfortable for tall people.
No cable management system.
Choosing the Best Glass Top Computer Desk – Buyer's Guide
Choosing a glass desk to hold your computer is not such an easy task, but it's worth devoting time and effort to. After all, your productivity and mood largely depend on the quality of the workspace. So a computer desk should not only be spacious and sturdy, but also comfortable and good-looking. So what are the main factors to consider when buying a glass desk?
Configuration of the computer desk should correlate with your everyday work tasks. If you work primarily on the computer, a desktop with plenty of space won't be of such a great importance. A compact glass desk with a pull-out tray would be a sufficient choice. On the other hand, if you intend to use the glass computer desk as a versatile workstation, you might want to look for the one with additional storage space and a shelf unit or choose a modern glass desk with drawers.
Decide what is more important for you: compactness or functionality? Of course, there are computer desks that combine these two properties, but in the majority of cases you will have to find a compromise.
Pay extra attention to the quality of the glass top. Computer desks with glass tops look stunning, but they might carry some potential hazards. First of all, beware of sharp corners and edges. They are rather hazardous, especially for children. However, responsible manufacturers usually avoid such safety flaws in their products. Also you should make sure that the desktop is thick enough and is made of safety tempered glass. Such glass is more durable than the regular one, and in case it does break, it is less likely to cause damage. Additionally, you should check with the manufacturer regarding the maximum weight a computer desk can hold. It is very important, since overloading a glass surface can cause its untimely breakage.
If you are planning to spend long hours working on the computer, it might be a good idea to get a glass desk with some value-adding features. A spacious pull-out keyboard tray, a footrest, a monitor mount, additional storage space, a bottom shelf, and a cable-management system are the most common features that make a computer desk comfortable and user-friendly.
Make sure the glass desk has a sturdy frame. Thick tempered glass is rather heavy, so it is natural that the frame that holds it must be rather sturdy, stable and durable. This is one of the most important things in a computer desk to look at. Steel frames are the best in this respect. Some manufacturers add wooden parts to the frame for enhanced design, which is also fine with regard to durability. Another factor that is less evident, but nonetheless important, is quality of the hardware. Sturdy joints are the foundation of a stable frame, so this factor should not be overlooked.
Conclusion
Today glass computer desks are gaining popularity among young people, students, gamers, office workers and people who work at home. Their sleek and unobtrusive designs that fit well in most of the contemporary settings is totally worth your attention.
Some of the best models of glass desks are included in this buyer's guide. In our review we have discussed the products of different styles, configurations and sizes, so that each reader might find the one that would suit his or her needs. Even if you haven't found anything appealing yet, we still hope that this article would set you on a right track towards a computer desk of your dream.