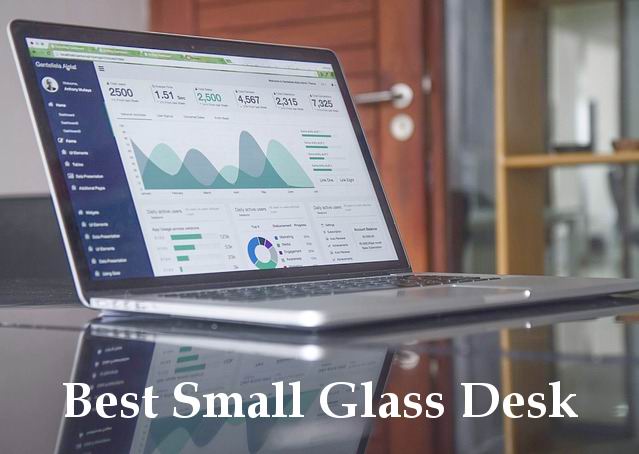 If you are short on space, but still want to make a stylish work zone, a small glass desk might be something that you need. This furniture piece actually serves a dual purpose. On one hand, due to its compact size it can save you plenty of space, yet helps you stay as productive as possible. On the other hand, a glass desk does a magic trick making a room appear lighter and more spacious. Especially, if it is made of clear glass and has mirrored parts.
On the downside, small glass computer tables usually have rather limited storage options and no cable management systems. Besides, most of them are not designed for heavy-duty use. So if you have a multiple-monitor setup and several large peripherals, compactness might not be something you should look for. Moreover, some small glass desks impose certain limitations on the size and design of chairs that can be used with them.
Regardless of the drawbacks, small glass desks are stylish, convenient, portable, and easy to assemble. They have thousands of fans across the country. Either you are already one of them or only considering trying out the option, this article might be useful for you. We have selected 7 best glass desks for home. As usual, the review is followed by a buyer's guide that can help you choose the right desk to suit your tastes and needs.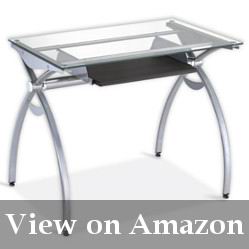 This glass desk is rather compact, but much more spacious, as compared to other small desks on the market. Its 8-millimeter glass desktop can accommodate even a dual-monitor setup without overburdening it. A clear tempered glass top rests on a steel frame with scratch-resistant chrome coating. Its curved X-shaped legs, connected by a cylinder bar make an impression of a professional high-end furniture piece.
The keyboard tray is rather narrow, made of MDF with mahogany veneer finish. This is an optional part, which can be omitted if you are not planning on using a desktop computer.
The glass top does not lay flat on the frame, but is raised on four chrome cylinders. Such design adds some special flair to the already chic look of this small desk. 
Overall Impression
The Techni Mobili Contempo small glass desk is a rather spacious workstation that can be used for a variety of tasks. It is sturdy and durable, but exceptionally elegant and unobtrusive at the same time. Its transparent top and sleek frame can make your room appear larger than it is.
Pros
Sleek and elegant design.
The construction is rather sturdy and durable, with 110 pounds of weight capacity.
The keyboard shelf has a moisture-resistant veneer finish.
The back side of the desk has no bars, so there is plenty of room for legs underneath.
The glass top rests on chrome cylinders, unlike many other glass desks, in which suction cups are used.
Comes with the 5-year limited warranty.
Cons
The desktop has unprotected corners, which might be hazardous, especially for children and pets.
The keyboard tray is rather small.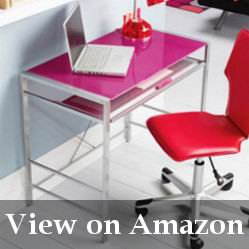 This cheerful small glass desk designed in bright fuchsia can fit nicely into a girl's or young woman's bedroom, study or home office. It provides ample workspace to hold most of the monitors and laptops alongside with office supplies and maybe some decoration. The desk has a full-size slide-out keyboard tray with a perforated metal surface. The frame is made of silver powder-coated rectangular steel bars. Its stability is enhanced by the tension bars.
The glossy pink glass top makes a stylish and convenient work surface.
It has a rounded edge and its corners are enclosed by the frame, providing increased safety.
The perforated keyboard tray requires a pad in order to ensure effective work of a mouse. If you work only on a laptop, the tray can be used as a storage compartment for stationery.
Overall impression
Mainstays miniature glass desk combines style, functionality and compactness. It is a great solution for a space-challenged room, where one might need to organize a work or study zone. One can get a matching printer stand and a bookcase to make a stylish and functional ensemble.
Pros
Attractive feminine design.
Elegant silver-finished frame has enhanced durability.
Spacious keyboard tray can accommodate both a keyboard and a mouse.
The keyboard tray has a notch where you can put writing supplies in order to prevent them from accidentally rolling off the desk surface.
Cons
The tension bars at the back of the desk might somewhat restrain your legs.
Fuchsia is a statement color, so this glass desk won't fit into every interior setting.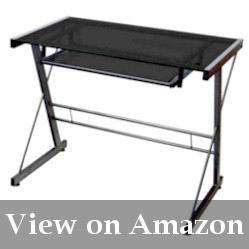 The Walker Edison Furniture mini glass desk is a great solution for small spaces. It is very compact, yet functional. The workspace it provides is sufficient enough to assist you with most of the regular tasks that involve working on the computer. Its metal frame with black powder coating is rather sturdy and elegant-looking. In combination with a durable tempered safety glass it makes a construction that can withstand up to 100-pound weight load. This is quite an impressive number as for a small glass desk.
In order to maximize functionality while keeping the desk on the small side, it has been equipped with a slide-out keyboard tray. It is not particularly spacious, but that is understandable, given the compact size of the desk itself.
Overall impression
The WE Furniture compact glass desk is a space-saver for a small office, home work zone or study. Its streamlined design brings a touch of modernism to your home office or studio, at the same time keeping it free of visual clutter.
Pros
Elegant and modern design.
Black color fits in with almost any interior decor.
Tempered glass top with beveled edges provides increased safety.
Sturdy steel frame.
Easy assembly.
Cons
The keyboard tray can hold a standard size keyboard only. If you would like to use a mouse alongside it you will have to get a mini keyboard.
Due to its small size, the glass desk has rather limited leg room. That is understandable, but you will have to watch out for the horizontal rods in the lower part of the desk in order not to hurt your legs.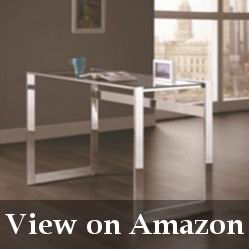 The stunning form of this small desk is probably the first thing you notice when you lay eyes on it. Its sleek chrome frame and a clear glass top make quite a simple, yet sophisticated combination. The desk is made in high-tech style, but it can blend with almost any interior decor thanks to its understated design.
In spite of its visual lightness, this glass desk has a considerable amount of workspace, which you can arrange according to your needs.
It is also rather tall and has no bars or shelves that could hamper your movements.
Overall impression
The Coaster Furniture chrome desk is one of the most stylish small glass top desks. Its clean and precise lines make it look elegantly austere and somewhat futuristic. The desk is designed with simple forms and no excessive elements, so it can make a fit piece in a minimalist-style interior.
Pros
Fascinating design in glass and chrome.
Ample desktop space.
The construction of the desk provides plenty of unobstructed room for legs.
The glass desk helps smooth out the visual clutter and make the room appear more light and spacious.
Cons
The chrome frame shows scratches and stains rather vividly.
The desk doesn't have a keyboard shelf or any other additional storage space.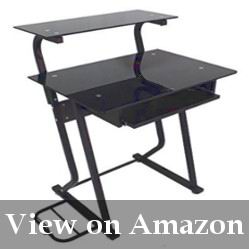 This Ogima glass desk is an exceptionally compact, but surprisingly functional item. The desktop is only 27.5 inches wide, so it can fit almost everywhere. Nevertheless, its functionality has not been affected by the urge to make it as small as possible.
The desk has a wide raised shelf which can be used to accommodate a monitor, a printer/scanner, speakers, or a fax machine. Alternatively, it can serve as a bookshelf. The item is also equipped with a pull-out keyboard panel. Finally, there is a CPU tower side shelf at the bottom of the desk. It attaches to the frame by the bolts, so if you don't need it, you can omit it to save 2.5 inches of space.
Subjectively judging, this small desk does not look as elegant as some other glass desks because of its quite massive black frame and keyboard tray. However, it is sturdy and compact, so these qualities outweigh the flaws of its style.
Overall impression
The Ogima computer desk is a great choice for small apartments, studios and dorm rooms. In spite of its small size it provides sufficient space to help you organize productive work processes.
Pros
More compact, as compared to other small glass desks.
Has a raised shelf that can hold computer peripherals, books or other items one might need.
Comes with a side shelf to keep the CPU case off the floor.
Borderless design of the desktop maximizes the usable space.
The glass top has rounded front corners.
Cons
A massive black frame gives the desk a somewhat coarse industrial look.
The slide-out shelf is rather small and has room only for a standard keyboard.
The desk is rather challenging to assemble.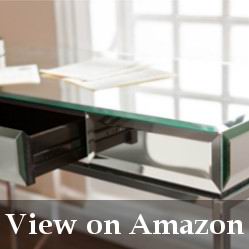 If you are looking for a chic and glamorous small desk, this one might catch your attention. The desktop is made of beveled mirrors and has a mirrored drawer. The legs and frame are finished with sleek chrome coating, which also reflects objects, so it looks like the whole table is made of mirrors. The desk looks very impressive, especially when illuminated.
Aside from its stunning look, the SE Dana desk is rather functional. Its ample desktop space makes it a great workstation, while a drawer provides storage space for office supplies. Its sleek mirrored surface requires extra care in order to stay as attractive as designed.
In fact, this is a versatile desk. It can be used as a workspace, as a vanity table or as a dressing table.
Overall impression
The Southern Enterprises Dana desk is an exclusive furniture piece that can add a glamorous vibe to your bedroom or home office. It is more of a light-duty desk, which will look its best when not overburdened with things. Its mirrored surfaces reflect the light and make a room seem larger than it actually is.
Pros
Sleek and glamorous design.
Functional drawer provides storage space for stationery items.
Makes the room appear larger and lighter than it is.
This is a versatile desk that would look great in any setting.
Cons
Mirrored glass is rather fragile, so one has to be very careful with this desk.
This is not a heavy-duty desk.
The glass surface is rather demanding when it comes to care.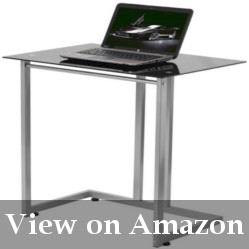 This is probably one of the most compact-sized glass desks that can be found on the market. This is a lifesaver for cramped spaces.
While being very small and simple, it is yet elegant and convenient. The amount of space the desk provides is just enough to accommodate a laptop computer, a couple of notebooks and a stationery holder.
This desk is suitable for reading, writing and short work sessions on a computer.
The design of this glass desk is simplified to the limit. The tinted tempered glass top lies upon a metal frame, designed with only three contact points.
Such a configuration ensures stability of the desk but makes its weight capacity rather limited.
Overall impression
The Flash Furniture compact computer desk is an essential solution for space-challenged apartments and offices. It can hardly be used as a full-time workspace; it is rather a place where you would occasionally read, write, or work on your laptop. It helps save space without sacrificing the style.
Pros
This is a great solution for really tight spaces.
As for a light-duty glass desk, this one serves the purpose to the fullest.
Elegant, contemporary design.
The frame is rather sturdy and stable.
Easy to assemble.
Cons
The desk does not have enough room underneath to be used with an armed chair.
Making legs comfortable might be quite challenging, especially for tall people.
The glass top relies only on three contact points, so its back corners are the weak spots that cannot be leaned upon or loaded with something comparatively heavy.
Very limited desktop space and no storage options.
Buyer's Guide: 6 Most Important Things to Pay Attention to When Choosing a Small Glass Desk
Having reviewed some of the most popular and worthwhile small glass desks available online, we can move on to discussing the key characteristics that need to be regarded. Some of them might seem too obvious, but there is no way they can be omitted, since they are really important. So here is the essential checklist of things to consider when shopping for a small desk.
When it comes to arranging a limited space, every inch matters. So when choosing a small desk you should pay extra attention to the measurements and make sure the depth and width listed on the website refer to the assembled product with the frame and other elements, not just a desktop. When assigning a place for a workstation in the apartment or office, make sure there will be enough room for both small writing desk and a chair. You should always reserve several extra inches of space just in case the dimensions listed are not entirely accurate.
Durability. In spite of small glass desks being designed for light and medium load, in practice many people tend to put as many things as possible on their desk. This is understandable, since by doing so they are trying to save space. If this is the case with you, then you should make sure the desk has a high weight capacity. Also, it should have a sturdy and stable frame and a thick glass top (preferably not less than ⅓ inch thick).
Storage options. When you are tight on space it is always nice to have furniture with integrated storage solutions. As an example, your small glass desk can have a raised shelf, which you can use to keep books, magazines or CD's. Small glass desk with drawers are also very practical. As opposed to open shelves, drawers help you keep the workspace looking neat and orderly, while hiding all the mess inside.
Design. A desk that is used as a workstation should have an ergonomic design. Finding a small desk with such design might be quite tricky, since some manufacturers sacrifice comfort for the sake of compactness. So you should make sure the desk you are buying has enough leg room underneath and that it allows you to keep a monitor on a proper distance from your eyes. A keyboard shelf is usually a plus, but it has to be ergonomic and wide enough to accommodate both a keyboard and a mouse. Some desks come with a CPU case stand. This is quite a useful fixture, since it keeps the device off the floor, but you need to make sure it doesn't restrain your movements or make you sit in uncomfortable position.
Safety. This is a point of consideration that is applicable to all types of furniture. As regards to glass desks, the most important things are as follows: safety glass, rounded or enclosed corners, a stable frame and durable hardware.
Versatility. If you have limited space multifunctional furniture might be very helpful. For instance, a small glass desk can double up as a dressing table in a bedroom or a console table in the living room. A small glass corner desk can be used as a TV stand. These are just few examples of how you can optimize your space using a glass desk. The number of options is limited only by your imagination.
Conclusion
Now, as you have checked out some of the best small glass desks and have fixed yourself up with a practical guide to choosing one, you are good to go. Surely, this is not a comprehensive list of available options – the market of glass desks is really abundant. Nor have we mentioned all the factors that might affect your choice – only the most common ones. There are so many nuances, that it is impossible to fit them all in one short article. Nevertheless, if our findings will help even one person to make a right choice when buying a glass desk, then we will know that our efforts were not in vain. Please remember, if you have a small space, it doesn't mean you cannot be comfortable and productive. You just need to choose the right furniture and arrange it wisely. Hopefully, our article can help you with that.