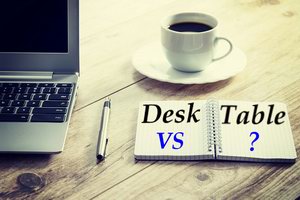 So, desk vs table? Tables and desks are essential pieces of furniture that must be in every home, office or training facility. They stand out by the flat tops, one or several legs may feature frames and cases. These versatile furniture items are used for multifarious purposes: to seat at, eat or write, read, work on a computer, study or store some essential stuff, necessary every day, or only occasionally.
These pieces of furniture are very similar. Moreover, using a table as a desk is quite possible. However, tables are diverse: they differ by shapes, height, functionality, being made of various materials, designed for dissimilar purposes. Studying at the best writing desk is preferable, as it's comfortable, stable, functional and well-organized. Ergonomic design and the well-suited height helps you to increase your productivity at home, school or office, makes the room healthy, effective and stylish. So, let's check what the basic desk and table difference are, thinking, how to select these items of furniture efficiently and for many years to come.
Common Types of Tables
According to Wikipedia, there are several basic types of tables, depending on their shape, size, position, and application, for example:
dining;
coffee;
dressing;
game;
drafting.
Workbenches also belong to the table furniture category. They can be different, according to the occupation, the craft, and area of activity. Table as a desk is a kind of general-purpose workbench that is designed for studying, reading and homework. However, it is to be adjusted, depending on the workload, the kid's age, height, and habits.
As to the materials, tables made of solid wood (like oak, walnut or cherry) are the most conventional and time-proven. They are top-quality, durable and robust, natural and high-end. Plastic pieces of furniture are lightweight, easy-to-clean and maintain, scratch-resistant. Nowadays, when thick and impact-resistant, tempered glass is widely used, a small glass desk can be considered to be a perfect option. Transparent glass furniture is great for small rooms that seem larger. It's elegant and hard-wearing, but cool to touch, recommended mostly for hot countries and states, or for the rooms that are properly heated.
So, what is the Difference Between Table and Desk?
Actually, a desk is commonly made for one person, being equipped with drawers and shelves. It has only one side where you can seat and perform precise work.
Tables vs desks are larger and longer. They can accommodate several people, being designed for consuming from or serving some food and drinks, displaying exclusive items, for example, lamps or vases.
Therefore, using a table as a desk is not too handy, but still acceptable. On the contrary, you wouldn't normally cook dishes or play cards on a desk.
The difference between table and desk is in the furniture application, shape and height, availability of storage like drawers, cabinets or shelves. Using a dining table as a desk, you would need additionally at least a couple of bookshelves, a cabinet and a chest of drawers to store your notebooks, writing and printed materials, office supplies.
Key Desk Types and Their Distinctive Features
The most commonly used desks are:
writing;
computer;
corner;
executive;
secretary.
An executive desk is large, coming with a massive footprint and a lot of drawers. This furniture option suits only large office premises and rooms, being too bulky and awkward for students. A secretary desk is luxurious and compact, featuring a lot of drawers. However, it's not convenient to seat at and write, as it's tall, heavy, coming with a hinged top surface.
What is a writing desk? It's a minimalist piece of furniture that still features a large and comfortable desktop. It's simple and efficient, commonly located along a wall and quite suitable for students.
Computer workbench is also practical and utilitarian, but it includes the storage for computer accessories and peripherals. The difference between writing desk and computer desk is in the availability of a keyboard tray and a CPU (Central Processing Unit) storage department. Nowadays, a lot of functional and stylish desks are offered on the market. For example, a glass computer desk is modern and lightweight, but large enough for work.
Meanwhile, a corner desk is a compact, space-saving solution that fits even the smallest living rooms, studies, and offices. It provides a lot of desktop area and some extra leg room. Additionally, a corner glass desk is transparent, giving the illusion of space and enhancing the look of the adjacent materials, like marble or wood.
Desk End Table: Pros and Cons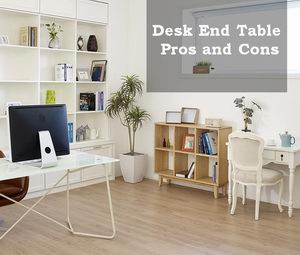 The end table is a piece of furniture that is built-in on both ends of the sofa or located behind a chair. It's used to place magazines, drinks, some food or coffee, magazines or picturesque design elements like lamps, vases, etc.
This cool desk and table combination is definitely small, minimalist, located a bit lower than a common table top. It may be compared to a coffee table, being even more convenient and functional. The elegant piece of furniture can be equipped with a shelf underneath, or several drawers, coming in various designs like trunk, drum, nesting or C-table. So, using this table as a desk is quite practicable, especially if your living room is extremely small. Additionally, these items look modern and stylish, embellishing your living space.
Variety of shapes
The end table's shape can be diverse: round, square, rectangle, triangle, oval or free-form; the popular materials are wood, glass, rattan, marble, and metal: you are offered to select the option that suits your room style and fits its dimensions. However, the study table desk is really tiny. It does not provide enough space for placing a computer, keyboard or printer. It can be serviceable, only when you are using a mini laptop, a netbook, or writing some lines from time to time.
So, what are the best desks for students? Quite naturally, they are space-saving, affordable, but comfortable, modern and stylish. Combining the desk and dining table is not desirable, as it's not handy. You would lack the storage departments and struggle with setting apart the food, drinks, and materials. Using a dining table as an office desk, you would have to clean the table top every day, because coffee or tea stains would remain everywhere on the surface.
However, having a multi-purpose work table desk is a good idea, suiting small rooms, offices, and dormitories. When you have only a living room to sleep, eat, party and do homework, a versatile, moderately sized table for a desk is preferable. Seating at this stylish piece of furniture, you can work on your laptop, make notes, play chess with your friends. A desk that is made of tempered glass is beneficial, as it's modern, lightweight, easy to clean and transparent, creating a perfect optical illusion of large and luxury space.
See video explanation